Police Officer Hiring Reference Guide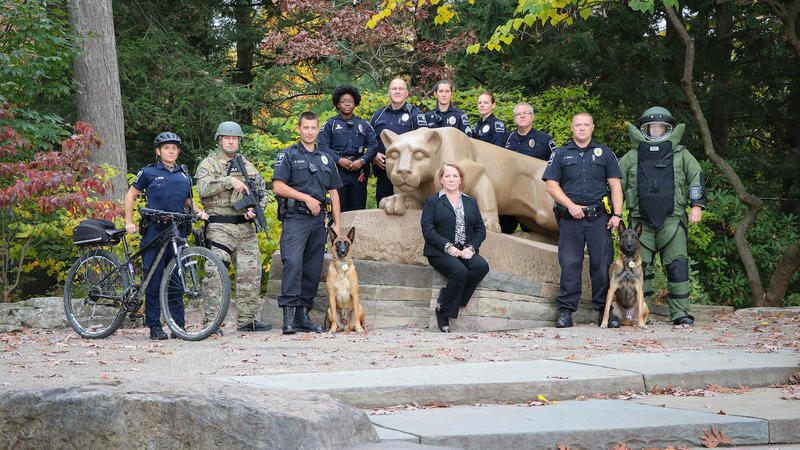 Thank you for your interest in University Police at Penn State.  If you are interested in applying for a police officer position with Penn State, please take the time to review this information as it discusses some of the unique conditions that are required to be a police officer with University Police.
MPOETC Requirements
The position requires certification from the Municipal Police Officers Education and Training Commission (MPOETC).  If you already have completed this certification, the certification must transfer to this department.  If you have an out of state certification, it must transfer to Pennsylvania and this department or the candidate will have to attend a MPOETC Police Training academy.
We suggest visiting http://www.mpoetc.state.pa.us/portal/server.pt/community/mpoetc/7545 to get a better understanding of the essential functions of a police officer and MPOETC certification requirements, which include a physical fitness examination (for those needing academy training), extensive background investigation, medical (to include vison standards) and psychological testing.  All candidates for a sworn position must obtain and maintain MPOETC certification.  There is also a listing of disqualifying offenses that would preclude someone from being certified as a police officer.  Offenses that would bar the carrying of a firearm are included in the disqualifying offenses.
Hiring Process
The typical hiring process includes: a BPAD exercise, a board interview, a background investigation, and both medical and psychological assessments.  Those who are not certified police officers must complete the police academy.  As a police officer applicant, an extensive background investigation will be conducted after successful completion of the board interview.  You must consent to this investigation of your personal and professional life.  It is absolutely critical that you provide truthful information that is verifiable at this phase.  Any intentional omission of information or lack of honesty at this phase will result in disqualification.
Penn State University
As an employee of the Pennsylvania State University, you will receive a number of benefits including: vacation and sick leave, medical benefits, optional disability insurance and retirement.  Please see the Penn State Human Resources website for more information: Prospective-Employee Information.
As an officer with the University Police, you are part of a team at Penn State that helps keep the campus community safe.  Police officers with the University Police will be expected to enforce the laws of the Commonwealth and other applicable regulations with fairness, integrity, honesty and professionalism and without regard for personal characteristics of those who you encounter. 
The jurisdiction of the University Police is all property owned or leased by Penn State.  Penn State has 22 campuses and leased property at other locations in the Commonwealth.  Officers of Penn State University Police and Public Safety have jurisdiction at all campus locations and may require temporary service at those locations.
There is personal risk in being a police officer that every person entering this field must understand.  You will be expected to place yourself at risk to protect others.  In order to accomplish this, you will be trained on how to use and be equipped with a number of lethal and less lethal weapons and tactics that you will be expected to professionally use as a police officer.
Law enforcement is a 24/7 occupation.  All members of the University Police must be prepared to work any shift to include nights, weekends and holidays. Additionally, you must have reliable transportation.  Penn State has a busy event workload so there is optional and mandatory overtime.  For example, Penn State home football games are mandatory work days for many University Police officers.  Some events, such as political candidate visits, may be required work days with short notice.
Dress and Appearance Policy
You should also be aware that University Police has many policies regarding terms of employment to include a policy called Uniform and Appearance Standards.  In addition to the requirement to properly wear a uniform for certain assignments, other standards are:
Officers, while in uniform, shall keep hair well-groomed and above the collar. 
Sideburns are to be neatly trimmed and will not extend below the earlobes. 
Mustaches are permitted, but must be neatly trimmed and not extend below the corners of the mouth or upper lip.  Officer's while on duty are not permitted to wear beards or goatees unless as part of a specialized or undercover assignment. 
Officers while in uniform shall not wear earrings and/or body and mouth piercings. Female officers are permitted to wear one pair of stud earrings.  No other jewelry, except for watches, engagement and wedding rings or rings intended to show an individual's commitment to a significant other, shall be visible. 
Personnel while on duty shall not have tattoos or body modification (ie. branding) visible. 
All personnel not assigned to wear a uniform are expected to wear appropriate business attire while working.  Business attire may be casual or professional depending upon job assignment.  Officers should check with their supervisor if they have any questions as to the appropriateness of wearing business casual or business professional attire.
If you have any other questions, please feel free to email University Police Human Resources at [email protected].
For Emergencies, Call 911