UPPS Internship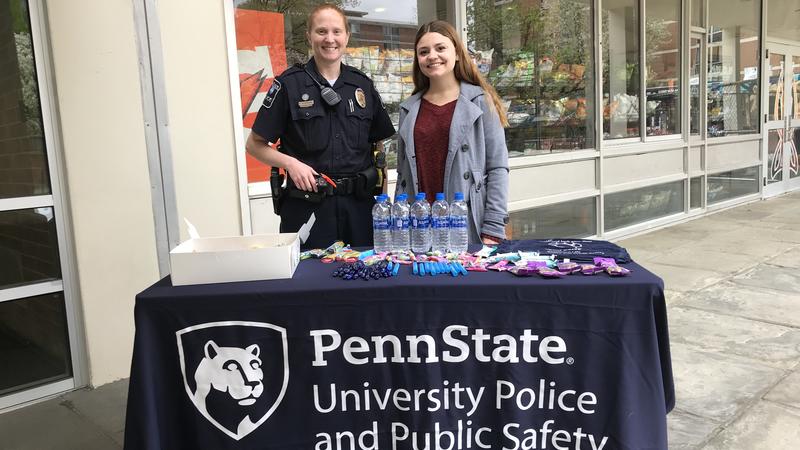 The Penn State University Police and Public Safety Internship Program is a highly rewarding, professional program that offers participants the opportunity to work "hands on" in various areas of the Penn State University Police Department.
Internships are paid and offered primarily to students enrolled at post-secondary institutions (must be 18 years of age or older). Student interns are typically in their junior or senior year of study and receive credit for successful completion of the internship program from their institution of higher learning.
Work Areas
Some of the work areas interns may be assigned to include: 
Administration with Diversity, Equity and Inclusion Director
Community Oriented Policing Unit
Criminal Investigative Division (limited due to COVID guidelines)
Uniformed Patrol Division (limited due to COVID guidelines)
Cell Phone Forensics/Crime Scene Evidence Collection (limited due to COVID guidelines)
Records (limited due to COVID guidelines)
Duties
Interns will be challenged to assist with creating, engaging and assisting with diversity, equity and inclusion initiatives throughout the commonwealth. Some of those initiatives include recruitment and retention efforts, training opportunities and participating in outreach with the Community Oriented Policing Unit.
As COVID restrictions become lifted, there is an opportunity for the intern to work with investigative tasks, when appropriate, and will also be permitted to observe in many different patrol and criminal investigation situations including, but not limited to, interviews, investigative techniques and crime scene/evidence processing. At times, interns may be assigned to attend law enforcement related training programs or observe while officers participate in active training programs such as Tactical Response Team Readiness training and Firearms training. 

Interns may also be assigned to complete clerical work and observe in non-sworn positions within the Record unit of University Police and Public Safety.
Finally, interns may be assigned to observe court hearings, jury/non-jury trials, or other court related processes as COVID guidelines allow. 
Requirements & Application Process
University Police and Public Safety interns are expected to conduct themselves in a professional manner at all times during their internship. Internship applicants must meet the following minimum requirements and must complete the application process successfully before being considered for assignment. 
Minimum Requirements
18 years of age or older
Successful completion of a standard employment background check
Successful completion of a motor vehicle driving record check (MVR), applicable only of those with a valid driver's license
Successful completion of CLEAN/NCIC federal fingerprinting
Currently enrolled as a student attending an accredited school or university
Must be in good academic and conduct standing
Note: The internship selection process will be competitive due to the limited number of positions available.
Application Process
Complete an online application at psu.jobs and upload the following documents with the application:
1. Cover letter – stating why you are interested in the internship with Penn State University Police, your relevant qualifications and expectations of the internship program.
2. Resume – a professional resume that outlines work and school activities
If you are selected for an interview, you will also be asked to provide the following:
1. Transcript – an original copy of the current transcript will be required before employment.
2. References – Three (3) professional/academic references with contact information
Timeline
Applications are accepted on an ongoing basis. 
Funding and Academic Credit
The University Police and Public Safety Internship a collaboration with the Criminology Department in the College of Liberal Arts and University Police and Public Safety's Diversity, Equity and Inclusion Unit. This paid internship is funded through the UPPS Diversity, Equity and Inclusion Unit.
Internships are the most effective way for students to gain work experience, establish credentials, and make professional contacts.   Penn State University Park students majoring in Sociology or Criminology may enroll in LA 495 for up to 12 credits.  3 of these credits maybe used to fulfill a 400 level course requirement.  You can find more information about the internship process by visiting the departmental website at http://sociology.la.psu.edu/undergraduate/internships.
For Emergencies, Call 911