CCure 101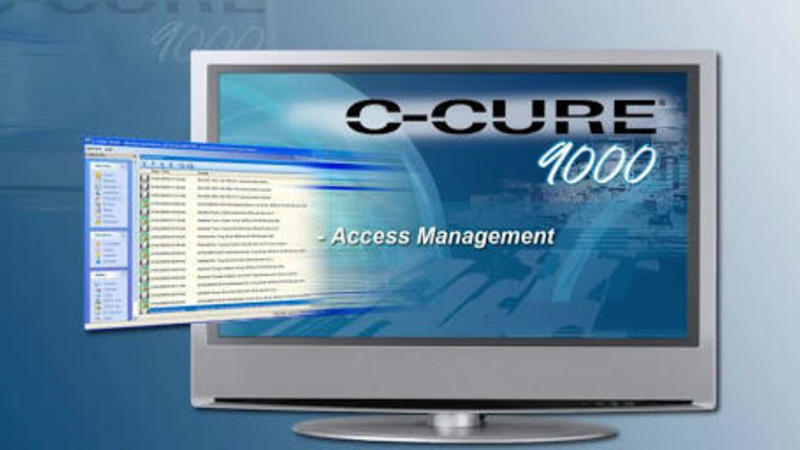 CCURE 9000 NAMING CONVENTIONS AND BEST PRACTICES:
Campus code reference list: Click Here
Full naming convention resource document: Click Here
Clearances should be named in the following format: Campus Code|College/Unit Abbreviation|Building (if single building)|Name (if applicable)|Date (if temp. clearance) + CLR
Example: UP AA Downtown Theater Box Office Spring 2021 CLR
Schedules should be named in the following format: Name of Clearance + SCH 
Example: UP AA Downtown Theater Box Office Spring 2021 SCH
Events should be named in the following format: Campus Code|Building|UNLOCK/DS CANCEL|Ext/Int|Rm # (if applicable) 
Example: UP AA Downtown Theater UNLOCK Ext
Personnel Records for Access Cards: The Last Name field is not editable. If you wish to edit the name of a Personnel record you must edit the first or middle name fields.  
Manual Actions: Manual actions should be used for occasions when you need to unlock/lock/silence an alarm for a limited amount of time, at most 7 repeating days. 
Manual Action Priorities: The general priority to be used should be 80 if needing to override a door lock/unlock. Your privilege allows up to 175, however, a priority above 80 should only be used in a case where you have knowledge of a need to raise the priority setting to that level. 
Custom Clearances: Custom clearances should only be set for a maximum of 7 days. If access is needed for a longer period a standard clearance should be applied. 

CCURE 9000 TERMINOLOGY:
Activate/Deactivate: Events in Ccure 9000 may be activated or deactivated. This will activate or deactivate the event 24/7 during the programmed time. On some screens of Ccure 9000 you will see an "Active Status" column. This column will update to show active or inactive based on if the status of the event. 
Arm/Disarm: Events in Ccure 9000 must be armed to operate. If the event is disarmed, it is considered offline. On some screens of Ccure 9000 you will see an "Armed Status" column. This column will update with the object's armed or disarmed status. 
Clearance: A Clearance is applied to personnel in Ccure. The Clearance contains the doors and associated schedule for card access. 
Controller/Panel: A Controller/Panel is the access control board that is generally installed in telecom closet spaces. The Controller/Panel interfaces with the Ccure server, card readers (to determine if access should be granted), and other door components. 
Credential: A Credential is the Penn State id+ card number other than the PSU ID number. 
Custom Clearance: A Custom Clearance should be used when an individual needs access to a facility for a few days to a week and it is not practical to create a new clearance for the specific access need. 
Door: A Door in Ccure is the complete makeup of a Door including door objects such as door monitor devices, locks, exit devices, audible alarms. When needing to unlock or lock a door opening, you would use the Ccure Door. 
Double Swipe: The Double Swipe functioning Ccure allows in authorized individual to Double Swipe at a reader to unlock or lock the door. If unlocking, the door will remain unlocked until locked again or a cancellation event locks the door. 
Event: An Event is used in Ccure to perform unlock Events that are driven by a specific schedule. Events are also used to generate system notifications.   
Group: A Group is generally several doors organized into a group format. Groups can be applied to Events and Clearances. 
Partition: Partitions are established by the facility in Ccure. A Partition includes the facilities clearances, groups, events, and is also is how privileges are established.  
Personnel: Personnel are the people in Ccure who hold a credential for card access. 
Privilege: A Privilege in Ccure are the rights you have and defines what you can see and do in Ccure. 
Schedules: A Schedule (Time Specification) is associated with Events and Clearances and provides the Schedule Ccure abides by. 

CCURE 9000 NOTES:
If you are using a Surface to access Ccure, you may need to alter your screen resolution to 1440 x 900 to properly view the software and 100% scaling for text size. A restart may be necessary for the change to take effect.

CCURE ARCHITECTURE: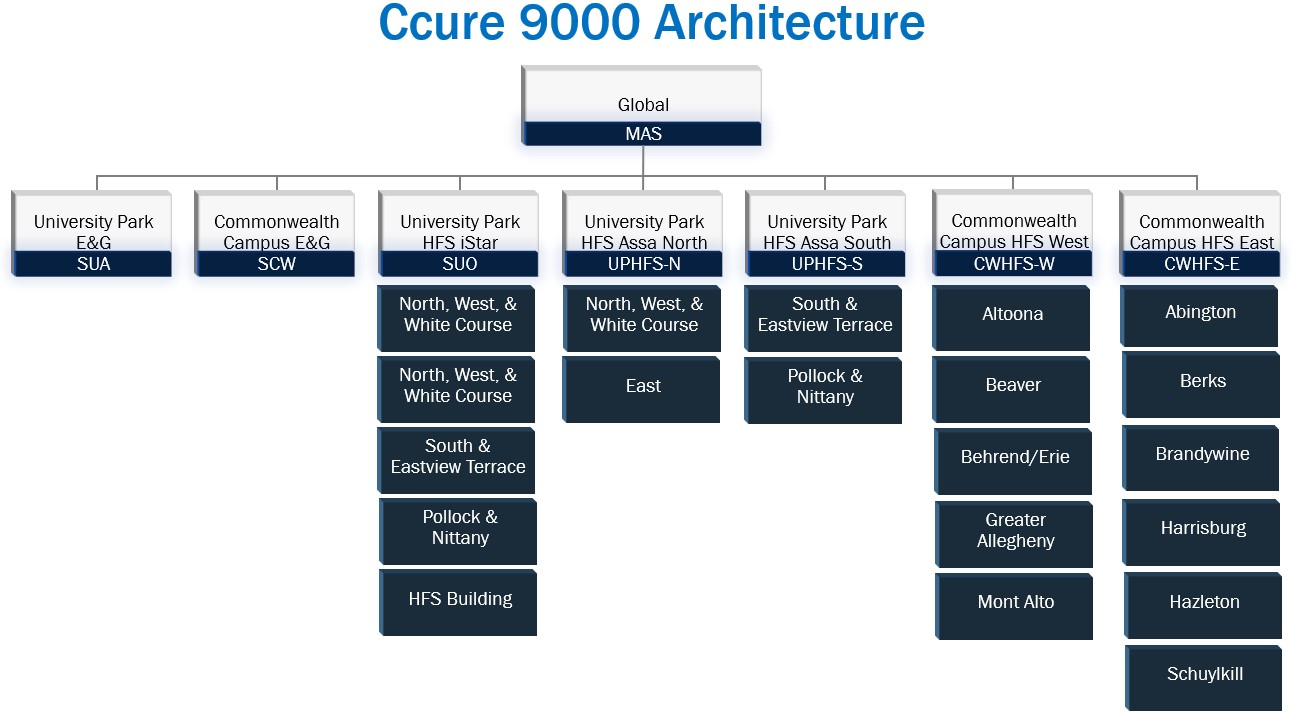 For Emergencies, Call 911