Career Opportunities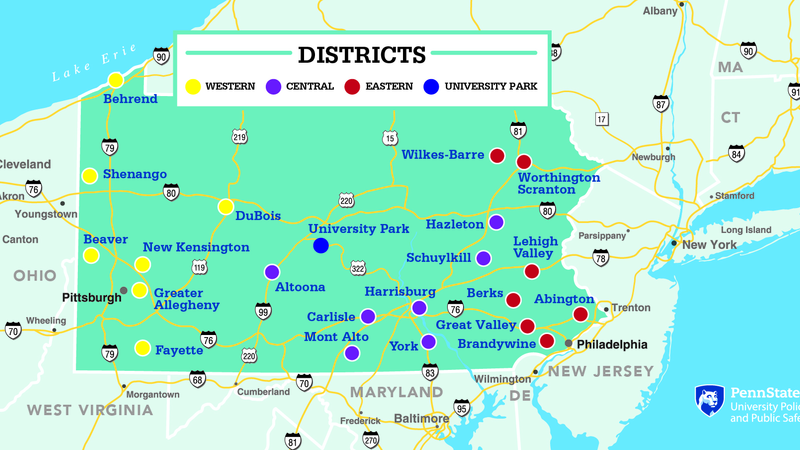 Penn State University Police and Public Safety operates under a centralized model which includes 22 campus locations across the commonwealth. Please visit the Penn State Jobs website for all vacancies, including police officers (sworn), safety and security specialists, emergency management, compliance, and other civilian opportunities.

Note: All sworn officer positions can be found under keyword: "police." Do not search by location. We use one posting under the University Park location heading that is recruiting for all of the 22 campuses. If you are selected to move in the process you will be contacted via email for your location preferences. 

The hiring process consists of a candidate qualification evaluation, computerized assessment, oral interview (at the University Park campus), background investigation, medical and psychological examination (at the University Park campus), as well as a campus interview where you would be stationed.

The process can take approximately six months or longer to complete. Those who are not selected may re-apply for future openings. PSU will not reject an application for minor omissions or deficiencies that can be corrected prior to the start of the process, however, we strongly suggest uploading an up to date resume and cover letter as well as filling out the application. Please clearly mark if you are already MPOETC certified, and if you are only interested in one campus please include that in your cover letter. 
****NOW ACCEPTING APPLICATIONS!****
Positions will remain open for application as long as the position remains posted
Start your application at: Penn State Jobs
Penn State is an equal opportunity, affirmative action employer, and is committed to providing employment opportunities to minorities, women, veterans, disabled individuals, and other protected groups.
The Pennsylvania State University is committed to and accountable for advancing diversity, equity, and inclusion in all of its forms. We embrace individual uniqueness, foster a culture of inclusive excellence that supports both broad and specific diversity initiatives, leverage the educational and institutional benefits of diversity, and engage all individuals to help them thrive. We value inclusive excellence as a core strength and an essential element of our public service mission.
FINANCE AND BUSINESS DIVERSITY STATEMENT
"We affirm our personal commitment to the University's values of dignity and respect for all individuals. We believe that the diverse backgrounds and personal characteristics of employees bring varied perspectives and experiences that enrich the environment of the Finance & Business workplaces. Since a diverse workplace is critical to this organization's ongoing success, we have emphasized diversity and inclusion in our strategic plan and we are committed to ensuring that it will be a part of our everyday business.
We expect the work culture within Finance & Business to be free of negativity and prejudice and we expect everyone to be able to come to work and not worry about being harassed or demeaned. We also expect that all employees will interact with all members of the University community in a professional and respectful manner regardless of their own personal beliefs or backgrounds. We will strive to have a workplace and community that are comfortable, safe and welcoming for everyone.
We encourage anyone who experiences or witnesses intolerance to come forward without fear of retaliation. We recognize that building a diverse and inclusive organization is a continuing process that requires commitment, focused effort and the attention of us all. We will achieve this if we all do our part to ensure that we treat the people around us with kindness, respect and dignity."
Finance & Business Leadership Team
For Emergencies, Call 911